The Leadership Development Companion is a unique and powerful tool that provides insights to answer questions like:
How do our leaders lead?
What is the team's approach to decision making, change and risk?
What are our leaders key strengths?
What risks does the current leadership team's combined leading style represent for the organization?
How do we grow our leaders effectiveness?
What is the REACH (agility) of our leadership team?
Your leadership team(s) are critical to the health of your organization today and tomorrow. The Leadership Development Companion provides insights and then links to automated analysis to provide assessments, targeted coaching, training and activities to improve strategic recruitment as the team grows, and to provide targeted ongoing development.
The unique resource provides you with the big picture view of the balance (or skew) of your leaders, then peels back the layers to understand how the 10 dimensions of your leaders provide.
REACH Leadership Development Companion Price Per Use: $499 Inc GST - See Full Price List
Ongoing Users Benefit from Subscription Pricing
What is in the REACH Leadership Development Companion?
The REACH Leadership Development Companion reviews your Leadership Teams Traits and Skills in 4 ways:
1. The Leadership Team Archetype Distribution
Discover the big picture view of your Leadership Teams overarching style, balance or skew.
Engage the leaders to see themselves as a single team leading the organization using the thought-provoking conversation starters.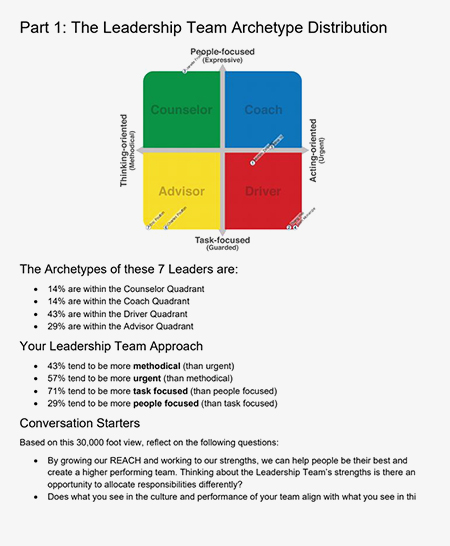 2. The Leadership Dimensions
Learn about the leading dimensions that shape your unique leadership team.
Discover your leader's approach in key areas such as decision making, risk, urgency and adapting to change.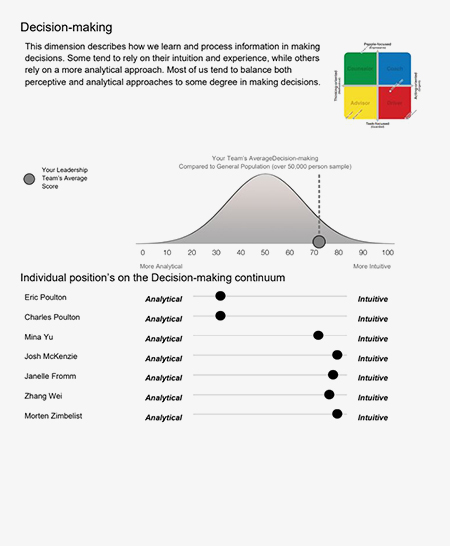 3. Your Teams Current REACH/agility
Discover Your current Leadership Team REACH as well as visual clarity on their strengths and weaknesses with this single page overview.
Quickly identify areas to prioritize for development.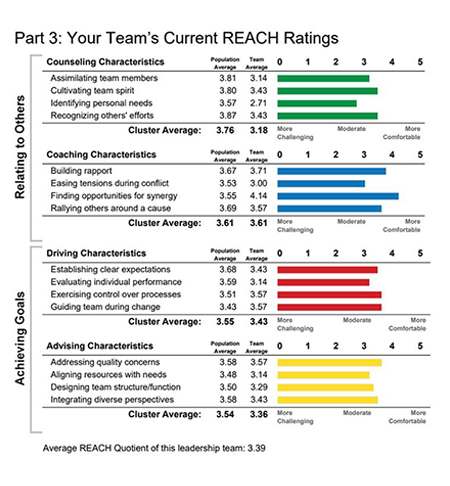 4. What's Next? Your Roadmap Forward
After the discovery and discussion with your Leadership Team about the findings in the Leadership Development Companion a "What's Next" is included to help provide the next steps to grow your Leadership Team this can include personal and team development recommendations.
The REACH Ecosystem provides all the resources to follow through with different types of analysis and automation to provide Training Needs Analysis, Coaching, Training and activities to build REACH and agility.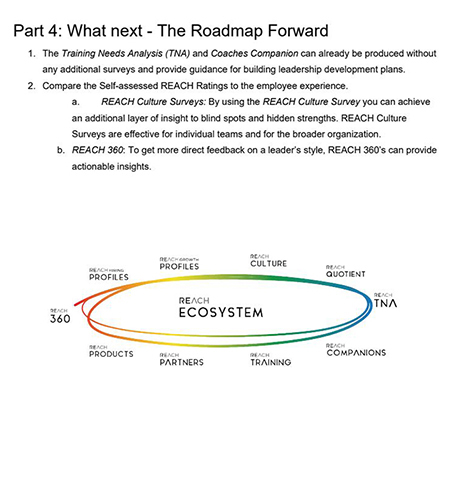 UNDERSTAND YOUR LEADERSHIP TEAM STRENGTHS AND GROWTH OPPORTUNITIES WITH THIS INSIGHTFUL DEVELOPMENT COMPANION
You have been redirected to the North and South America site based on your location.
If this is not correct, please choose from the region menu beside this message.